CIC Power Talk: Catalysing Innovation in Construction and Real Estate Sector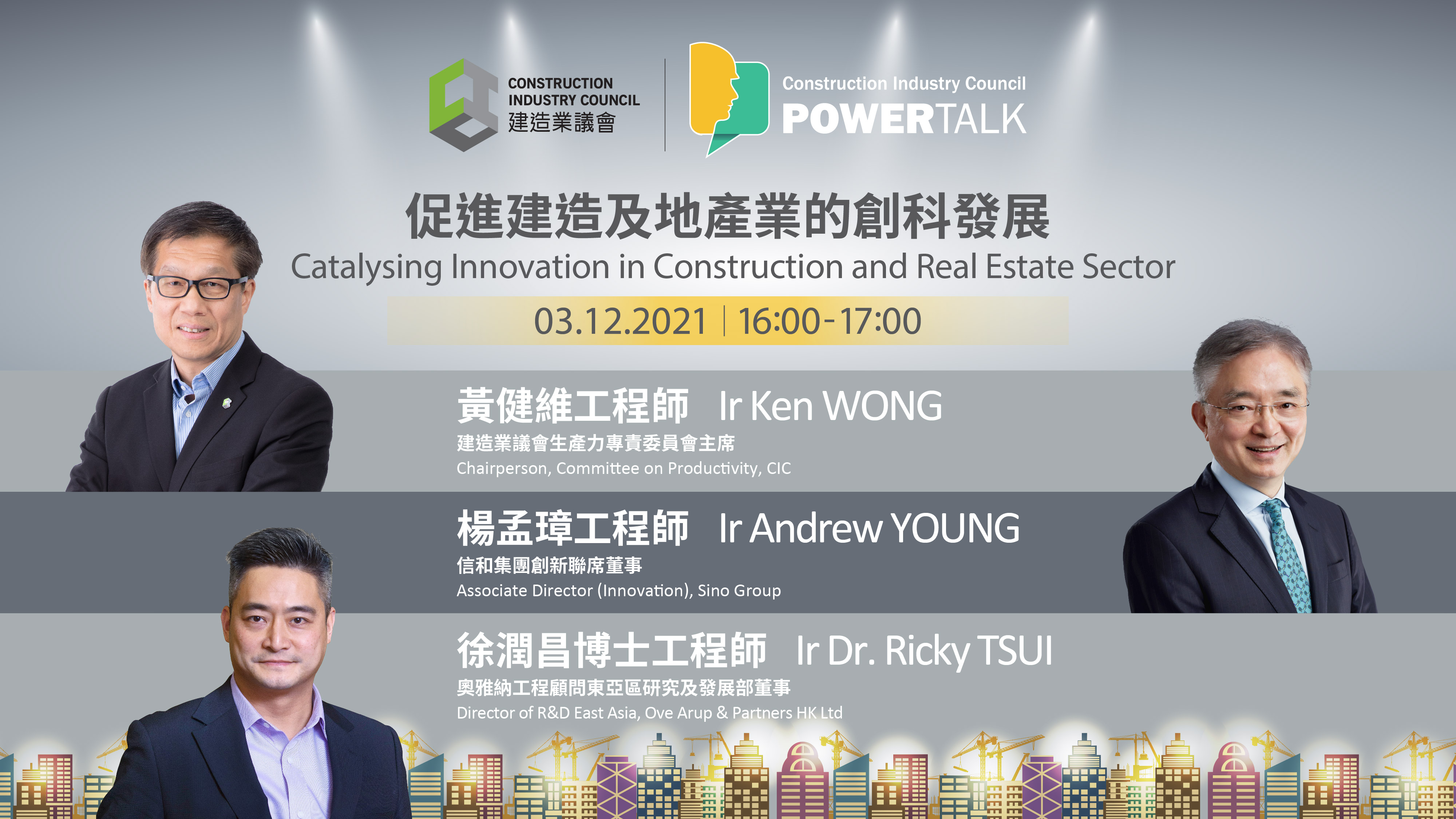 Since the "Construction 2.0" advocated in the 2018 Policy Address, the industry has been adapting innovation culture and embracing changes through innovative technologies. The first Construction Innovation Expo in 2019, with 228 exhibitors, showcased strengths of the local industry in construction innovation.
In 2022, the second Construction Innovation Expo and the CIC Construction Innovation Award 2022 will be organised to showcase how the industry keep abreast of the times in adopting innovative technologies and embracing the cultural change. Ir Ken WONG, the Chairperson of the CIC Committee on Productivity, will introduce these two signature events in this Power Talk.
Besides, two industry leaders in construction and real estate sector will share their corporate innovation roadmaps, their ambition, strategies developed and challenges faced, for developing an innovation eco-system within the industry.
Power Talk Details
Date: 2021-12-03 (Fri.)
Time: 16:00 – 17:00 (HKT)
Format: Webinar
Language: Cantonese
CPD Hour: 1 Hour
Speakers
Ir Ken WONG, Chairperson, Committee on Productivity, CIC
Ir Andrew YOUNG, Associate Director (Innovation), Sino Group
Ir Dr. Ricky Tsui, Director of R&D East Asia, Ove Arup & Partners HK Ltd
Moderator
Ar. Daniel SUEN, Director - Industry Development, Construction Industry Council
Remarks:
An electronic copy of CPD attendance certificate will be issued to participants with over 80% attendance within one month after the live webinar. Any attendance on replay sessions after webinar will not be considered for CPD attendance certificate.
To join the event online, please click the register button below, login/join i-Club member to register.
Replay video is now exclusive for i-Club members, please register and join i-Club.
Please use full name as your i-Club profile name for issuing the CPD Attendance Certificate. To edit your profile, please click here.
Please read the Livestorm terms and privacy policy before registration.
Should you have any inquiries, please contact us at rndfunding@cic.hk.