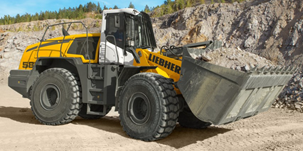 Advanced Tools and Equipment
Liebherr Holistic Hydrostatic Drive Wheel Loader Model : L524, L538, L550, L566, L580
CITF Code: PA22-022
Type Of Technology: Advanced Tools and Equipment
Product Type: Loader
Vendor: Liebherr (HKG) Limited
Origin: Asia, Hong Kong and Mainland China
Tel : 31423151
Holistic Hydrostatic Drive Wheel Loader
Model : L524, L538, L550, L566, L580
High-performance hydrostatic drivetrain wheel loader that allows continuous acceleration across the full speed range without noticeable shifts or interruptions in tractive effort.
Avoid unnecessary counterweights and the risk of tipping forward with unique component mounting locations at the rear of the machine. Weight distribution enables higher tipping loads at lower operating weights. Sturdy buckets have good penetration. A reduction in fuel consumption of up to 25% has been achieved. Continuous traction control combined with a self-locking differential prevents wheel slip and tire wear by up to 25%, and a self-locking braking system ensures safe and reliable operation.