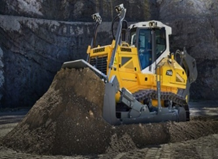 Advanced Tools and Equipment
Liebherr Holistic Hydrostatic Drive Crawler Dozer and Loader Models: PR716, PR736, PR756, PR776, LR626 and LR636
CITF Code: PA22-023
Type Of Technology: Advanced Tools and Equipment
Product Type: Dozer
Vendor: Liebherr (HKG) Limited
Origin: Asia, Hong Kong and Mainland China
Tel : 31423151
Liebherr Holistic Hydrostatic Drive Crawler Dozer and Loader
Models: PR716, PR736, PR756, PR776, LR626 and LR636
High-performance hydrostatically driven track dozers and loaders that allow continuous acceleration over the full speed range without significant shifts or interruptions in tractive effort. Through the unique component mounting position at the rear of the machine, the low center of gravity design provides higher stability. Perfect weight distribution for higher gravitational output at lower operating weights. The sturdy box-type one-piece body is rigidly designed to make the chassis more durable and reduce the loss and replacement of conventional accessories. Reduce fuel consumption by up to 28%. Continuous traction control and correct track tension adjustment can increase the life of the track pins by 75%, and the self-locking braking system ensures safe and reliable operation.
The combination of the panning management system starts from logging into MyLiebherr via LiDAT GPS and GPRS data transmission until signalling from the machine Litronic. Comprehensive job deployment documentation, faster support from the manufacturer resulting in extended machine life and greater planning efficiency resulting in increased availability.