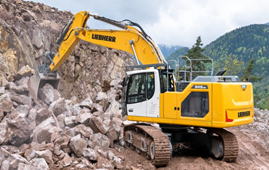 Advanced Tools and Equipment
Liebherr Holistic Hydraulic Digging Excavator 型號 : A922 Rail, R924 Tunnel, R950 Tunnel, R950 Demolition, R920, R924, R930, R944C, R945, R966, R976.
CITF Code: PA22-024
Type Of Technology: Advanced Tools and Equipment
Product Type: Excavator
Vendor: Liebherr (HKG) Limited
Origin: Asia, Hong Kong and Mainland China
Tel : 31423151
This product is equipped with the LIKUFIX Hydraulic Quick Coupling System, which allows safe replacement of mechanical and hydraulic work tools from the cab. By replacing different excavator hydraulic tools, the product is suitable for tunnel excavation, excavation, crushing and dismantling and other projects. Combined with high-performance hydrostatic transmission system, it can effectively reduce fuel consumption.
There is a 3D camera behind the excavator, which can distinguish between people and objects, and the system will issue warnings and audible alarms to the operator on the display screen.
In addition, this product is suitable for LiDAT GPS and GPRS data transmission. Users can log in MyLiebherr to check the usage of machinery, or manage the scheduling work of the construction site.