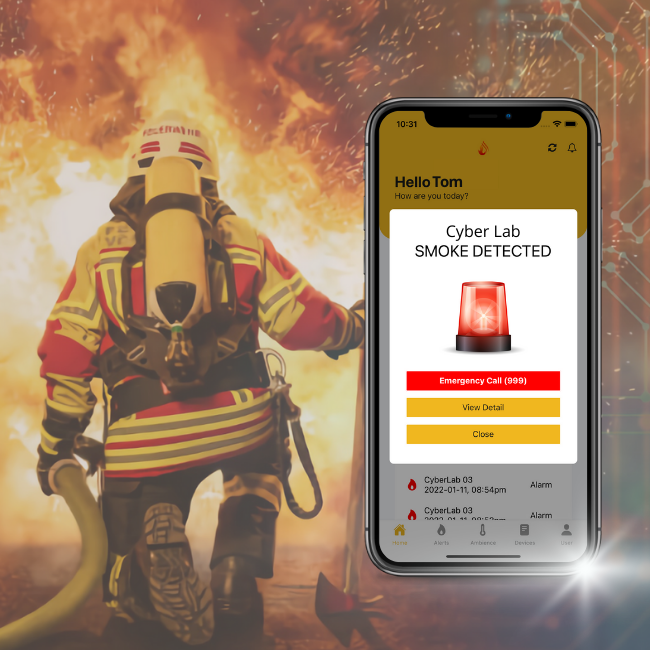 Sensors and IoT
FireAlert
Type Of Technology: Sensors and IoT
Vendor: FireAlert Limited
Origin: Hong Kong and Mainland China
Tel: 9843 0443 / Email: kalvin.ng@firealert.com.hk
FireAlert app is a new generation of AIOT fire alarm management systems. The wireless version has been recently deployed in Hong Kong International Airport projects. Using a new generation of AIOT wireless technology, the FireAlert app could be widely deployed in remote and temporary situations, such as construction sites. It not only provides real-time notification of fire alarms to the user via smart phone, but detailed information about the fire instance, such as the location of the fire in the floor plan. The new generation of smart fire sensors could do self-diagnostic, and inform the safety office if the fire sensors are low in power or being tampered with. With an app in hand, safety officers are in complete control of fire monitoring at construction sites.
Benefits :
- Real-time fire alarm signal dispatched to relevant users, including residential people, facility management, and fire department, with fire alarm details, such as fire situation, location GPS, and floor plan.
- Facility management and Fire Department could have fire details to rapidly respond to fire alarms and avoid a lot of faulty fire alarms.
- FireAlert is a very cost-effective fire monitoring system that saves life and effort.
Applications :
- Commercial sectors: including plaza and servicing apartment
- Temporary Sites: construction sites and commercial renovation sites/plaza
- Limited Infra-structure buildings: sub-divided flat and old buildings
Project Reference :
- Hong Kong International Airport