BIM Awareness Webinar (Session 2) - Planning & Design Stage and Construction Stage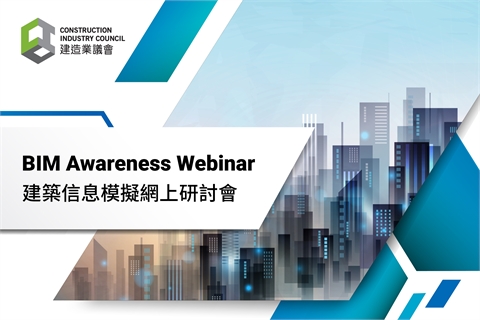 To promote the awareness and understanding of the Building Information Modelling (BIM), the CIC organised "BIM Awareness Seminar and Workshop 2.0" at CIC BIM Space on regular basis.
We now change it to webinar format with a series of three webinars named "BIM Awareness Webinar". The content of the "BIM Awareness Webinar" series will be mainly focused on the basic information of BIM, participants would also have opportunities to walk through the BIM showcases with BIM uses at different stages of the project lifecycle.
Session 2: Planning & Design Stage and Construction Stage
Showcases on Planning & Design Stage
Showcases on Construction Stage
(Please be reminded to register Session 1 and Session 3 to complete the whole "BIM Awareness Webinar" series.)
Date: 30 March 2022 (Wed)
Time: 10:00 - 11:00
Language: Presentation in Cantonese, materials in English
Fee: Free of Charge
Format: Webinar
Speaker:
CIC Representatives
Should you have any queries, please contact i-club@cic.hk.
Remarks:
An electronic copy of CPD attendance certificate will be issued to participants with over 80% attendance within one month after the live webinar. Any attendance on replay sessions after webinar will not be considered for CPD attendance certificate.
To join the event online, please click the register button below, login/join i-Club member to register.
Replay video is now exclusive for i-Club members, please register and join i-Club.
Please use full name as your i-Club profile name for issuing the CPD Attendance Certificate. To edit your profile, please click here.
Please read the Livestorm terms and privacy policy before registration.