2022.10.25
BIM opens doors to growth and excellence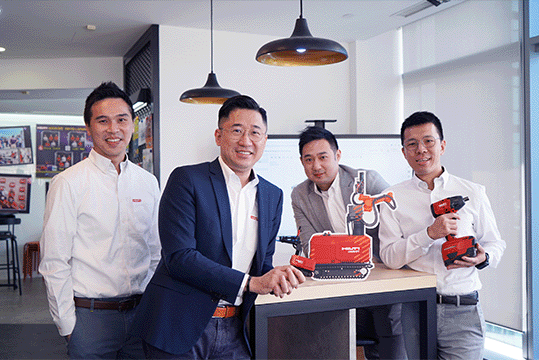 In the recent years, Building Information Modelling (BIM) has been the buzzword in the global scene of the construction industry – Hong Kong is no exception. This year, fresh off the Policy Address announced on 19 Oct is that the government is to "devise a roadmap on the industry's use of BIM in preparing building plans for submission to departments for approval". On the same day, Construction Industry Council (CIC) co-organised the Celebration of BIM Achievement in 2022 to celebrate industry players' good practices that contribute to bringing BIM to its full potential. At this point of time, there are bright BIM engineers willing to embrace the change, yet there are, still, ample of room for improvement if we are aiming for more extensive usage of the technology.
In this article, we feature an interview with a team of enthusiasts from supplier-turned solution provider Hilti, a multinational company that applies and promotes BIM technology substantially.
Early interception to cut down delays
"BIM is key to enhancing quantity, speed, efficiency and quality of the building lifecycle, from design, build to operation stages," said Michael Leung, Hilti Hong Kong's General Manager. "As a product supplier, we realised that it is crucial to intercept with a project as
early as the design stage for a holistic planning. Traditionally we, as a material supplier, are only called upon at a later stage of construction, and by then we often face plenty of constraints in terms of installation methodology and spatial limitations. These result in plan alteration and on-site improvisation, inevitably leading to delay in delivery and missing flexibility in future maintenance," Michael continued.
Hilti's BIM interface (Profis MSE) serves as a collaborative platform for consultants, contractors and workers to work in the same interface which, as its name suggests, by considering the common hanger for ventilation, fire, plumbing & drainage, and electricity installation in the design plans and via easily comprehensible three-dimensional models. This in turn breaks the wall between parties of different stakes and specialities.
Thanks to the detailed and accurate 3D models in the BIM interface, ventilation, fire, plumbing & drainage, and electricity installation works could be conducted in harmony and with efficiency without having to "compete" for the limited space above the dropped ceiling in sites. Installation method and safety best practices could hence be delivered by workers with much less risk and effort.
A case in point in construction of government premises is the Kai Tak Sports Park. "With BIM in place, and depending on the specifications of the project, the workflow is expedited by various extents. We found 30-40% of time could be saved on average," said Michael.
Innovation for safety and sustainability
Going down to jobsite, Hilti's drilling robot Jaibot, also its unique BIM-to-field application, brings BIM into execution. Engineers contribute to a building process that can be more efficient, resulting in fewer problems on site, and can hence produce an optimal system design. In addition, the drilling robot conducts hole drilling for mechanical, electrical and plumbing, and interior finishing installation works, releasing workers for high-skilled works that are less hazardous and repetitive.
"In light of overhead tasks, where workers have to maintain a working posture standing and with one's arms raised for a substantial period of time, an exoskeleton made of light and comfortable material was introduced to ease burden on the workers' shoulder and back," said and Product Portfolio Manager Ethan Tai.
On sustainability, the tool supplier is shifting from direct selling to a servicing model starting three years ago which help clients to optimise their tools inventory. Business Director Derek Tsang pointed out that the new model could offer more flexibility to clients based on their needs during different stages of their projects. Clients could top up their regular retainer plan during peak seasons when additional units are urgently needed in a significant quantity. With the well-established tool service centre and ample of expertise in repair and maintenance, as well as ready availability of genuine spare parts, the company is able to give another life to used equipment, hence reducing wastage.
On a wider spectrum, the company is also prepared to disclose its embodied carbon footprint in terms of mechanical and electrical modular support system in Q4 this year. As the pioneer in the industry to make such a disclosure, the company believes that it spearheads the carbon reduction movement which in the long run contributes to carbon neutrality goals.
Grooming talents for the new way to go
As one could imagine, the fall of the wall between specialties opens up a new direction for the industry, from paper plans and wordy method statements to lively 3D models and charts with real-time input from parties in the whole project life cycle. With the technology at hand, what's next is to ripple out its usage and influence so as to drive the industry as one forward.
Hilti launched its flagship cross-functional company educational programme "BIM with Hilti" where young BIM engineers from different companies learn together in groups. Virtual and physical visits to innovation showrooms and hands-on workshops were key learning processes so that young engineers could see with their own eyes what the latest technologies are and understand pain points faced by other specialities. The ten-month programme wrapped up recently with real local cases studies featuring what could have been improved if BIM had been applied in past projects. Walking across various actual size models built with actual equipment and parts, members of the judging panel were nothing but impressed by the creative solutions and collaborative mindsets of the young engineers. "The presentation day turned into a fruitful knowledge sharing summit where bright talents soaked in a joyous and mutually constructive atmosphere," BIM Project Manager and programme mastermind Ian Wong was particularly proud of his younger counterparts.
"Among our corporate partners, we asked for their senior management's blessing and attention to the programme since the participants are expected to bring back what they have learnt from the programme to their own company, and put them into daily practices. Innovation without execution goes nowhere," said Michael.
The company appreciates the Construction Innovation and Technology Fund (CITF) administered by CIC as it breeds innovation by lowering the entry barrier. CIC's iHub showroom in Zero Carbon Park showcases up-to-date innovative products by different streams of specialty is also a useful platform for knowledge exchange. Looking ahead of the numerous research and development facilities in greater China, the company is optimistic to the industry's future and is happy to play a part in touching up the Hong Kong brand name.