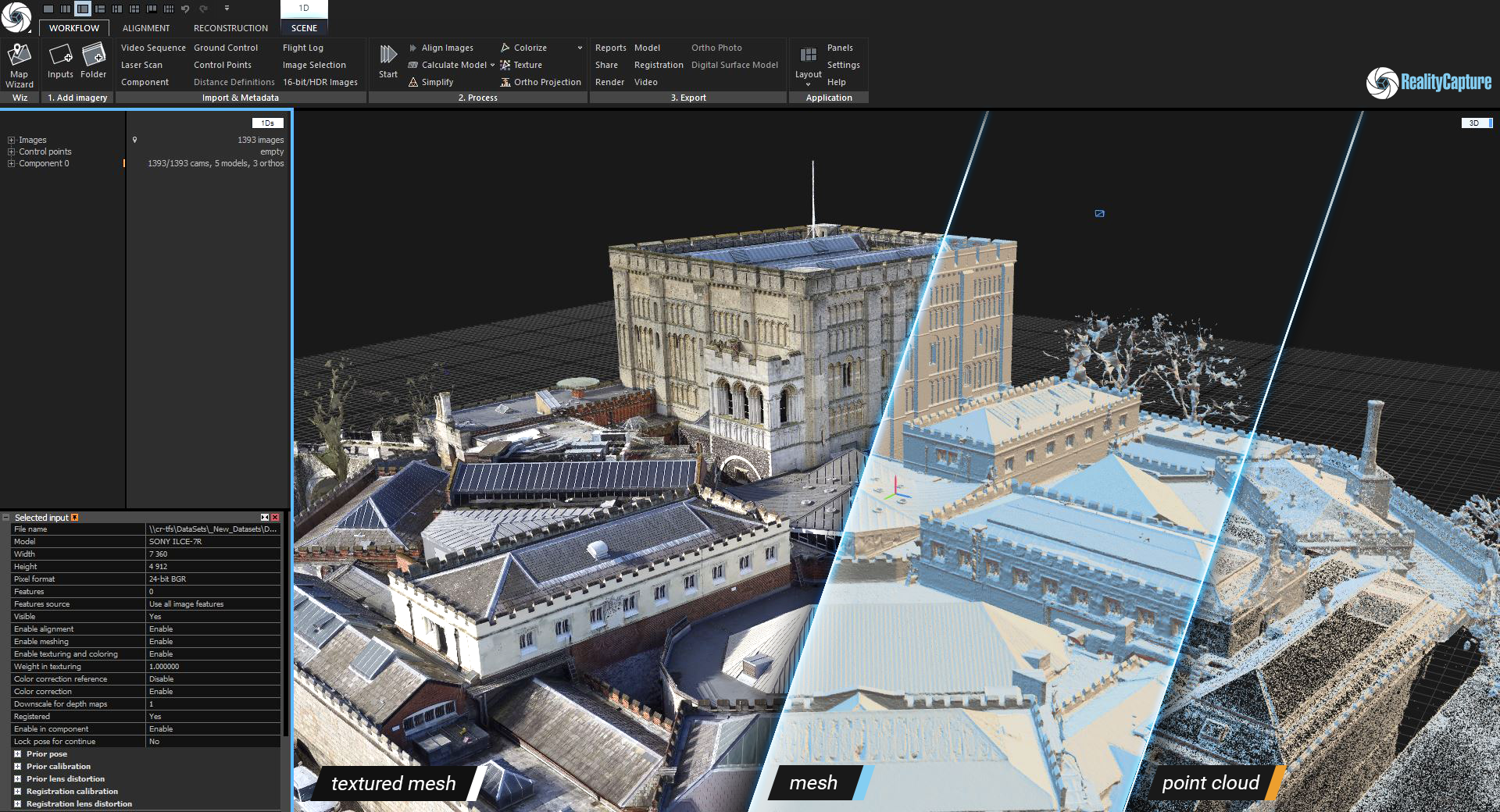 先进科技方案
RealityCapture
科技类型: 其他
公司名称: Reality Capture Hong Kong Limited
来源地: 美洲, 亚洲, 欧洲, 香港与中国内地
电话: 3899 4192 电邮: danny@realitycapture.com.hk
RealityCapture is a leading photogrammetry piece of software recognized for its speed and accuracy, and used by many professionals in wide range of industries.
It is the state-of-the-art photogrammetry software which is currently the fastest solution on the market, bringing great freedom to your work and allowing you to focus on your business targets.
RealityCapture has been the first software to allow a fully automatic combination of laser scans and photographs.
It is still the only software which is able to mix lasers and photos easily without seams and limitations.
Benefits :
- Obtain accurate dimensions where there may be a lack of as-built plans
- Generate accurate visualisation of a design based on the reality of the existing environment to help meet the client's architectural aspirations
- Generate and validate 3D models to ensure reality matches design
- Ensure complete collaboration of design and progress with all stakeholders throughout the project
- Start a project with accurate data for early identification of problems
- Avoid costly delays and rework through collaborative sharing of up-to-date digital data based on reality
- Save time and costs with a reduced number of site visits
- Continuously monitor progress and maintain visibility of potential issues
- Digitally record progress and validate work against the design to ensure the project stays to the planned budget
- Collaborate throughout the project with up-to-date 3D models of as-built and design plans
- Share progress with all parties involved
Applications :
- Automatic 3D model reconstruction of triangular mesh,
- Advanced coloring and texturing algorithms,
- Geo-registration into all world coordinate systems,
- Direct support of PPK/RTK flight logs, GPS in EXIF/XMP, and ground control points,
- Ortho projections, DSM & DTM computation, AI classify tool and export into the recognized standards such as tiff, geotiff,
Volume, area, and distance measurements,
- 3D model export into standard formats (ply, obj, xyz),
- LOD export and direct upload to Cesium ion,
- Camera motion/calibration export to world standards (with custom scripts),
- Seamless combination of laser scans and photos,
- A set of tools for analyzing alignment quality and accuracy, geo-registration, mesh reconstruction, 3D model post-processing (filtration, simplification, smoothing), etc.
- Command line processing
- One click "Start" button for photogrammetry full automation workflow process
Video: